Technical Program
Full Program
Full program as of October 21, 2016
Program at a glance
| | |
| --- | --- |
| Session number | Session name |
| OS-01 | Bio and Medical |
| OS-02 | Boiling and Condensation |
| OS-03 | Combustion |
| OS-04 | Computational Heat and Mass Transfer |
| OS-05 | Convection |
| OS-06 | Cooling, Refrigeration and Heat Transfer Devices |
| OS-07 | Energy Technologies and Environmental Technologies |
| OS-08 | Mass Transfer |
| OS-09 | Molecular and Nano-Scale Thermal Engineering |
| OS-10 | Radiation |
| OS-11 | Thermodynamics |
| OS-12 | Thermophysical Properties |
| OS-13 | Visualization and Measurement |
| GS | General |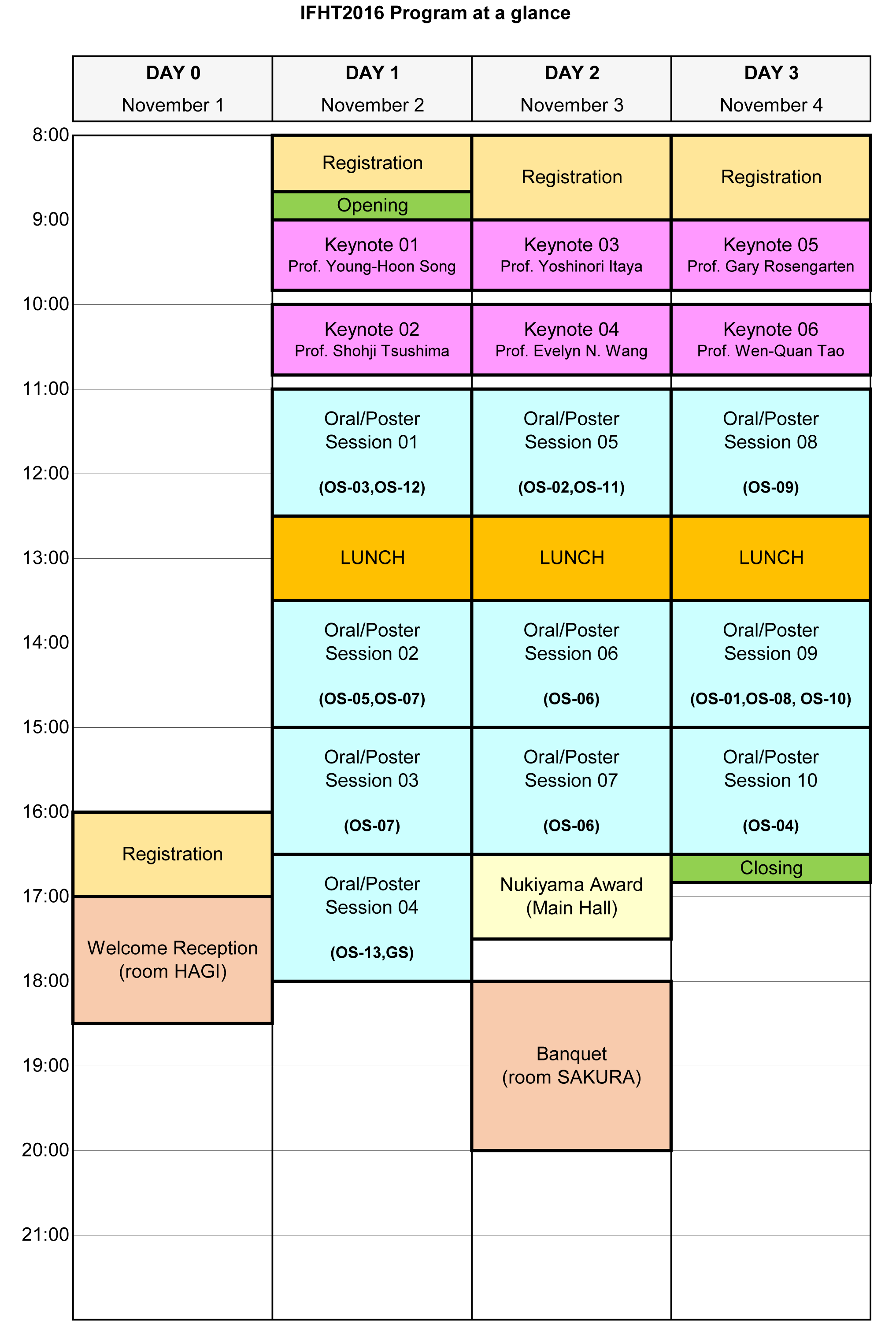 Instructions for Presenters
Session
All sessions except for keynote lectures and the Nukiyama memorial award lecture includes both short oral presentation (30 min) and poster presentation (60 min).
Short Oral Presentation
Please prepare a 1-page PDF file including the title and authors. The short oral presentation is limited "1 min" and entire slideshow should be set up in landscape orientation prior to the session by the forum organizer. Animations (visual effects and movies) cannot be used. The slideshow file should be submitted by email to
ifht2016@microheat.ifs.tohoku.ac.jp
by Monday, October 24, 2016 (JST). Only the file created in PDF is acceptable. See the sample file here.
Poster Presentation
Each poster will have an assigned space in room "HAGI". The size of the poster board is 900mm W × 2100mm H, which is suitable for A0-size poster (841mm W and 1189mm H). It is strongly recommended that posters are printed on a single A0-size sheet. Please mount your poster by yourself on the board with your presentation ID at least 1 hour before your presentation. Pins will be provided by the Forum secretariat. Please remove your poster by yourself at the end of the poster session.
Contact Forum secretariat at ifht2016@microheat.ifs.tohoku.ac.jp for further information.